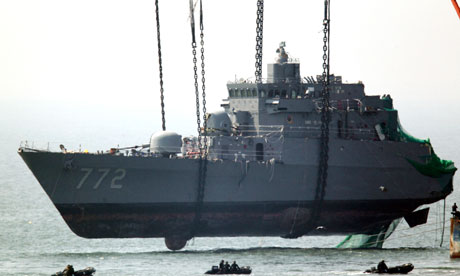 The premiers of China and Japan met Monday for talks expected to focus on North Korea and to soothe strains in their own relations brought about by naval incidents on the high seas in recent weeks.
"We would like to further develop this strategic, mutually beneficial relationship," Japan's Prime Minister Yukio Hatoyama told Chinese counterpart Wen Jiabao in Tokyo before their annual summit talks were closed to the media.
They were due to sign agreements on food safety, energy conservation, environmental protection and e-commerce.
Both leaders attended a three-way weekend summit with South Korea's President Lee Myung-Bak, where Wen resisted pressure to publicly castigate North Korea over the sinking of a South Korean warship in March.
Hatoyama was expected to keep pushing efforts by his government, Seoul and Washington to persuade Beijing to punish its communist neighbour, which has been blamed for torpedoing a corvette, killing 46 South Korean sailors.
Japan and China, Asia's biggest economies and fierce rivals for resources, have their own naval incidents to discuss after Chinese helicopters have twice buzzed Japanese naval vessels in recent weeks and a Chinese marine survey ship pursued a Japanese coastguard vessel, prompting protests from Tokyo.
Japan was also expected to push China to set up a military hotline to prevent such maritime incidents from escalating, foreign ministry press secretary Kazuo Kodama said at a pre-summit briefing.
The host nation was also expected to urge progress on a two-year-old agreement to jointly explore oil and gas resources in the East China Sea, in the Shirakaba oil and gas field, known as Chunxiao in Chinese.
Since the June 2008 agreement, the talks have stalled and Japan says China has started unilateral operations on the Chinese side of the median line, with ships reportedly observed taking equipment to the area.
Despite their flare-ups and differences, both Asian economic giants have been at pains to highlight their strengthening ties.
Hatoyama has urged turning the East China Sea into a "Sea of Fraternity", and Wen, after his arrival Sunday, read a haiku-style poem describing his feelings about changes in China's relations with Japan.
"The ice melts into water in the spring. The rain is gone and the green mountain is extremely green and the earth is thick with grasses," he said.
Wen started Monday early, practising Tai Chi and jogging in Tokyo's Yoyogi Park, where the premier, dressed in black sportswear and shadowed by bodyguards, shook hands with other early risers.
In a bout of "baseball diplomacy," he played catch with university students and practised batting. One of the students later said on television: "I didn't get nervous because he was very friendly."
China is Japan's top trade partner, with total two-way business of around 230 billion dollars last year, exceeding Japan-US trade for the third year in a row.
Source http://www.google.com/hostednews/afp/article/ALeqM5gTU6W2S1oHxw5zPX4yNrHXDi46rg