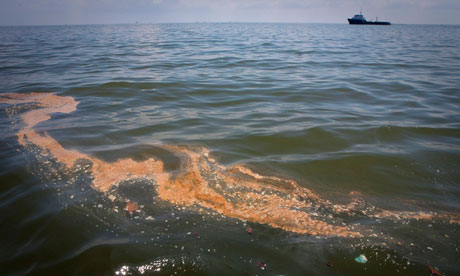 New figures mean Deepwater Horizon is producing an Exxon Valdez-size spill every five to 13 days.
Shares in BP have opened 5% higher in London, recovering some of the losses suffered the previous day.
BP shares were trading at 384.75p. On Thursday, its shares fell 6% as it continued to struggle with the fallout from the Gulf of Mexico disaster.
The oil giant's share price has almost halved since the Deepwater Horizon oil spill began on 20 April.
Late on Thursday it was revealed that BP chairman Carl-Henric Svanberg had been asked to meet President Obama.
BP is coming under pressure to cut its dividend to help pay for the oil spill.
The Wall Street Journal reported that the company's board was considering cutting or deferring the second-quarter dividend that is due to be announced on 27 July, or paying all or part of it in an IOU to shareholders.
"We are considering all options on the dividend. But no decision has been made," BP chief executive Tony Hayward told the newspaper.
Pensions expert and former government adviser Ros Altmann told the BBC that if the company did cut its dividend it would not have a dramatic impact on pensions.
"For people already drawing a pension it doesn't really have much impact. For people saving for a pension, what we're talking about here is one quarter's dividend perhaps not being paid, certainly initially.
"Thereafter we'll have to see. It is a blow but I don't think we should take this out of proportion."
The National Association of Pension Funds (NAPF) estimates that UK pension funds' exposure to BP is about 1.5% of total assets.