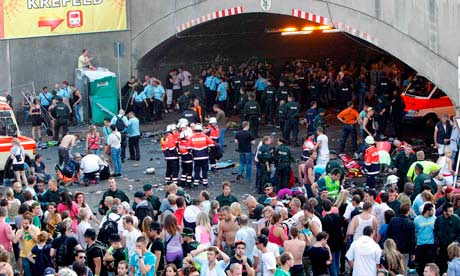 A Facebook page has been set up in memory of Clancie Ridley, the Sydney woman who died during a stampede at a German music festival on Saturday.
The 27-year-old from Georges Hall, in the city's southwest, died at the Love Parade music event in Duisburg.
"She was everyone's little ray of sunshine. She was giving and loving and very, very social," one person wrote on the tribute page.
"You will be in our hearts for ever," another said.
Ms Ridley was one of 19 people killed in the tragedy.
The Department of Foreign Affairs and Trade is expected to confirm later on Monday that Ms Ridley was the only Australian killed.
Officials in Germany say revellers from Italy, Netherlands, China, Bosnia and Spain also died.
More than 340 people were injured.
The deaths occurred after revellers were crushed in a narrow tunnel which served as an entrance to the event.
Television pictures showed lifeless bodies being passed over the heads of those frantically trying to escape.
Fairfax reported Ms Ridley had just quit her job in health insurance and planned to spend three months travelling in Europe.
Source http://news.smh.com.au/breaking-news-national/tributes-paid-to-music-festival-victim-20100726-10sga.html